Join Us On Telegram For Latest Movie Updates
Join Our WhatsApp Group For Latest Movies Updates
On July 29th Netflix released the official trailer for the upcoming movie "Seoul Vibe." The lead actors were seen carrying out a task to deliver goods in exchange for a large sum of money. Yoo Ah In's character is seen as the main driver.
Synopsis
"Seoul Vibe" is a car chasing action blockbuster set in 1988. It will tell the story of the Supreme Team in Sanggye-dong. They will be involved in a VIP slush investigation operation.
Director:
The series will be directed by Moon Hyun Sung who also helmed the films "The King's Case Note" and "As One."
The production shared, "The acting synergy by the main leads made the movie fresh and fun that has never been seen anywhere else."
"Seoul Vibe" will premiere on August 26th.
Watch The Official Trailer:
Trailer Review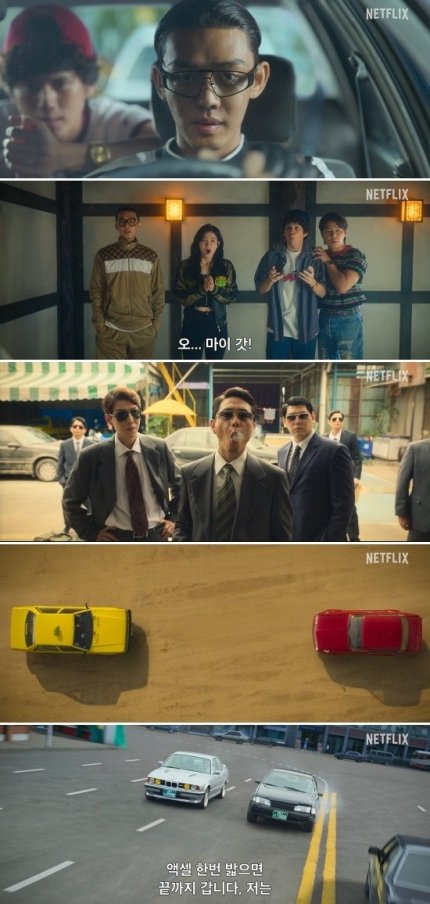 In the teaser, the clip started with a car chasing action scene with Yoo Ah In's character as the driver. He is joined by the Supreme Team in Sanggye-dong consisting of Go Kyung Pyo, Ong Seong Wu, and Lee Kyu Hyung.
In the next scene, the Supreme Team together with Park Joo Hyun were then presented with the operation and a large sum of money.
Yoo Ah In will play the role of Dong Wook, the strongest drifter of the team, Go Kyung Pyo will play as the club DJ named Woo Sam, Lee Kyu Hyung will be the human navigator of the team named Bok Nam, Park Joo Hyun is the bike genius of the group named Yoon Hee, and lastly, Jung Gi, the McGyver in Sanggye-dong will be played the Ong Seong Wu.
Meanwhile, Oh Jung Se was also highlighted in the teaser. He will play the role of the person who will give instructions on the investigation of the VIP slush funds.
Viewers can anticipate the full 80's vibe as well as the heart-stopping chase of the Supreme team.
DMCA!
Naijatalkies does not claim ownership of any movie/music/video on this site nor do we host any. If your copyrighted material has been uploaded or links to your copyrighted material has been uploaded kindly click here to file a take down notice